Civil Projects
I D Loader Ltd is a civil construction company that specialises in roading, including state highway, local and forestry; subdivisions; drainage; water reticulation; site works; traffic management; aggregate supply; transporting and landscape supplies in Wanganui and around the North Island.
We have undertaken many major projects over the company's history and are always looking to form new partnerships. Get in touch with us today if you have a project that we may be able to help you with.
Roading
The company was founded on building roads and this is still one of the main functions we carry out. We have excellent road building gear with a leading-edge 120M Cat grader complete with accugrade GPS self-levelling system, a Cat CS563E vibrating roller with detachable pad foot shells, a three point steel roller, Cat PTR roller and water truck. We can build any type of road from state highways to forestry to local city roads and subdivisions.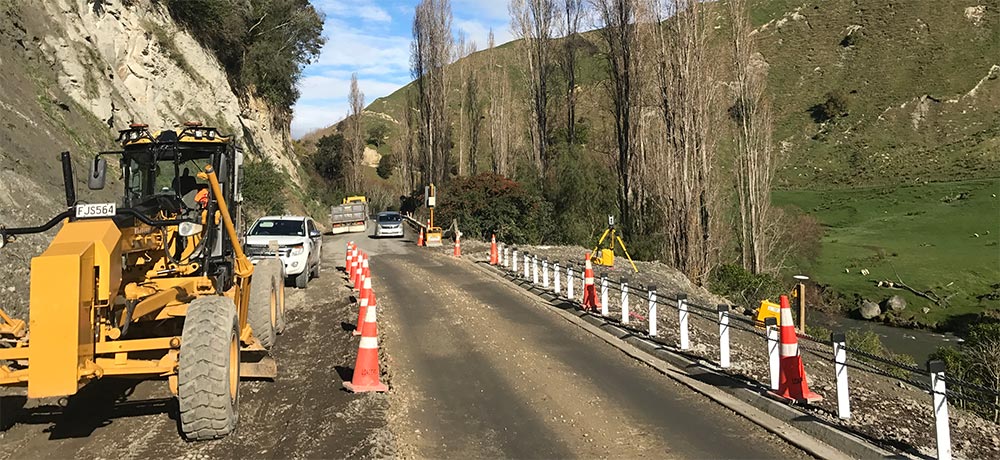 Site Works
We work with several construction companies providing site works for building sites including foundation preparation, landscaping grounds and carparks. We have carried out projects ranging from large subdivisions to entire retirement villages to commercial buildings.
Traffic Management
We perform our own traffic management as well as providing traffic management for other contractors. We provide plans, STMS, TC's and signage.
Minor Works
We carry out many small jobs for private residents in Wanganui. We are an approved vehicle crossing installer with the Wanganui District Council and do many of these along with driveway upgrades every year.
Forestry
We work for several forest clients in the Wanganui region, building and maintaining roads for harvesting and planting. The continuous nature of the work has enabled us to commit several machines to this operation year round. We comply with the highest standard of health & safety and environmental requirements.
Compliance
Our business management system is accredited to PAS99:2012. PAS 99:2012 is an integrated management system which incorporates Quality Assurance – ISO9001:2015; Health & Safety – BS OHSAS 18001:2007 & AS/NZS 4801:2001; Environmental – ISO 14001:2015. Achieving internationally recognised standards reflects the professional approach Loaders has to its business management systems.
Systems
Our business systems are very good. We have a high technological component in our operations from E-Road tracking in our trucks to a sophisticated accounting system.