We have broad range of heavy equipment and plant available to get your project done right. We also have a number of specialist services on offer that make us the go-to company for some of the trickier works that cannot be completed by other firms. Take a look below at some of the things we have on offer and be sure to contact us if you require further information.
Hydroexcavation
We have an 8 wheeler hydroexcavation unit. It is a self contained unit offering traffic management signage. It has a 100mm diameter suction hose, water blaster rating of 3000psi 21 litres per minute, spoil tank volume of 4m3.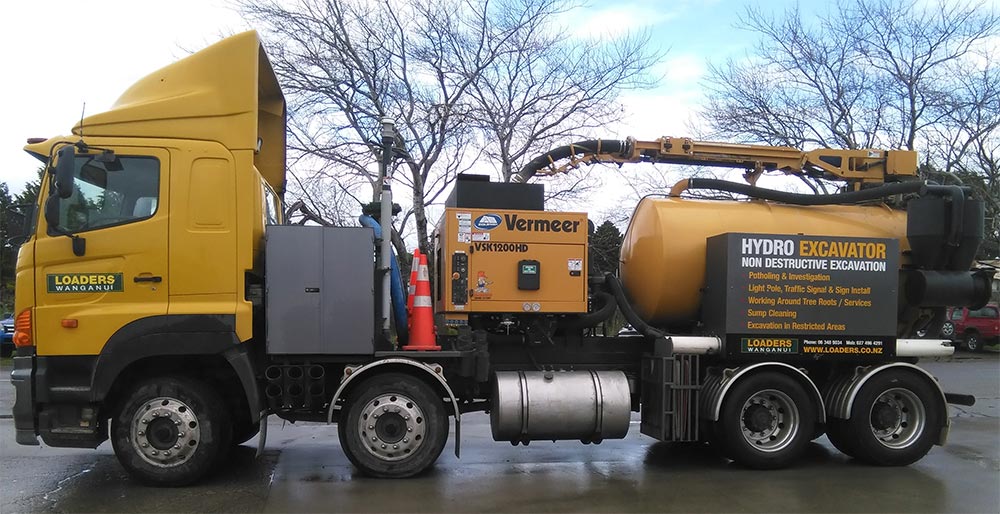 Material Resources
We have our own shellrock quarry located 30km north west of Wanganui inland from Maxwell. We currently produce large uncrushed rock. We also utilise several small quarries around the district from time to time.
Metal Crushing
We have a mobile crushing plant and can produce metal down to AP40.
Hydrema
We now have our own 2010 Hydrema Dump Truck that is being kept busy moving rock and soil!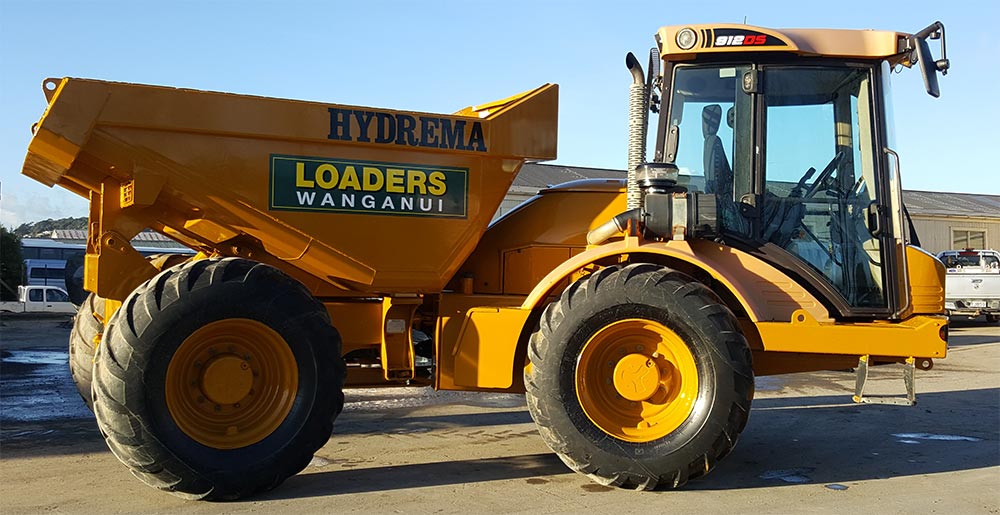 Paving Installation
Loaders offers paving installation. We can undertake both domestic and commercial paving. Our certified paving installer has over 15 years experience and has worked all over the north island. We are also an approved installer for the Whanganui District Council.
Pipe Bursting
The pipe burster is used in for bursting sewer laterals. We have found it a very valuable piece of equipment as it provides a very efficient and simple solution.
Temporary Traffic Management
Temporary traffic management is a critical element to consider when working on or near roads. We have a dedicated traffic management truck kitted out with a full range of traffic management signage and cones. Mounted on the rear of the truck is a remotely operated directional arrow and a remotely operated light board. We also have a number of STMS and TC qualified staff.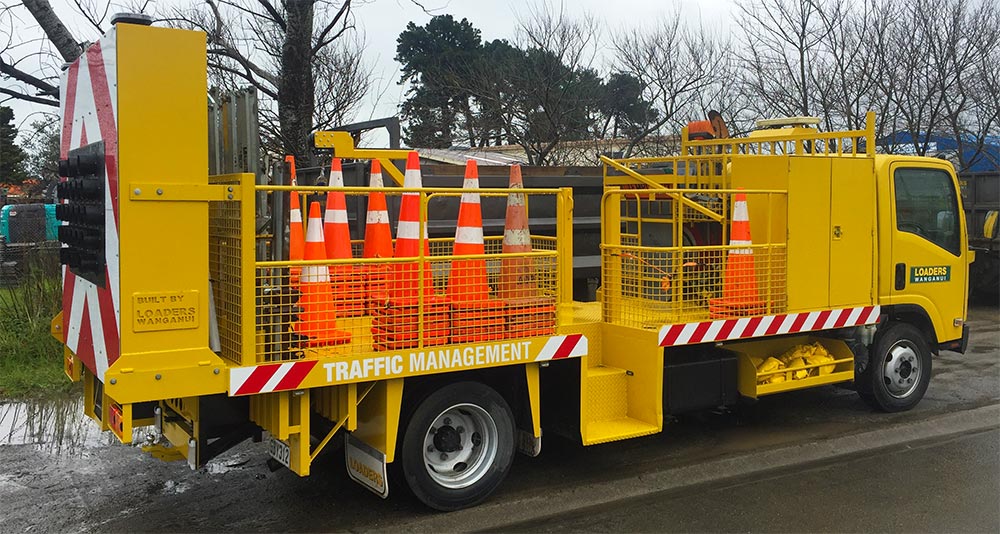 Transporting
We own two tractor units – a 2014 Kenworth and a 2006 Hino 700 series. We have 3 transporting trailers; one 3 rows of 4 that can cart up to 28 tonne, one 3 rows of 4 low loader, widener and can cart up to 28 tonne, and one 3 rows of 8 low loader, widener that can cart up to 42 tonne. We also have 3 BESS accredited drivers, seven class 2 pilots and one class 1 pilot.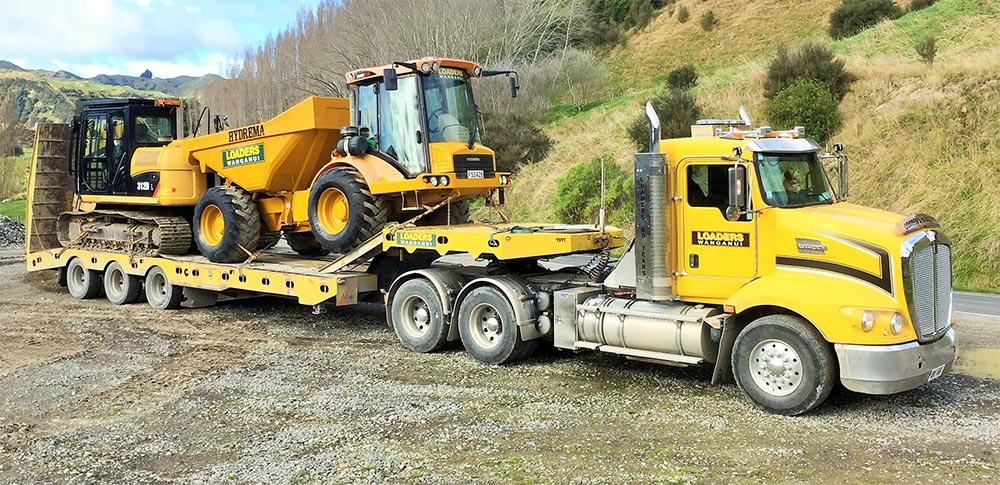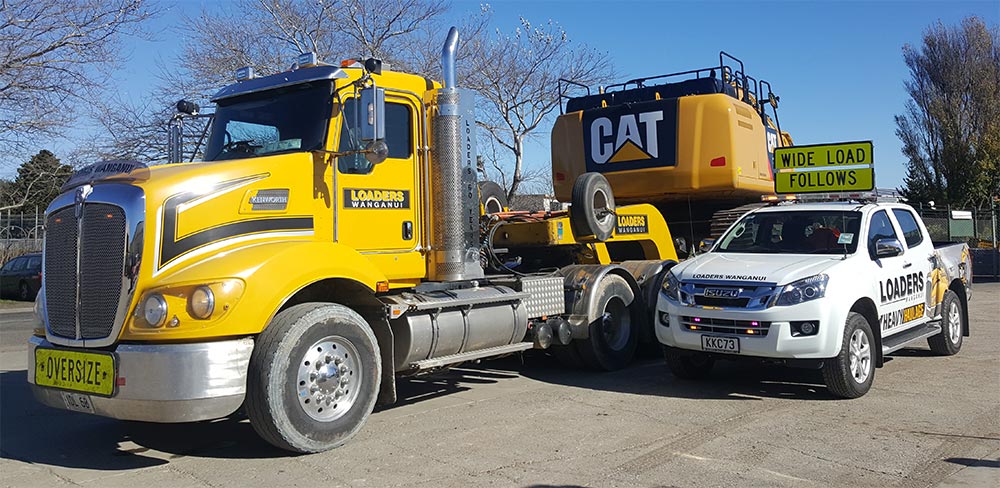 Trimble 3D GPS System
In 2010 we purchased our first Trimble GNSS system, GNSS Rover and 120M CAT Grader complete with Trimble Business Centre and CAT 3D accugrade software. Recently we have furthered or investment in Machine Control technology with two GNSS excavators and a Universal Total Station to allow for never before seen accuracy and speed in construction. The systems use 3D models and GNSS positioning so there is no need for lift pegs, set out pegs or stringing.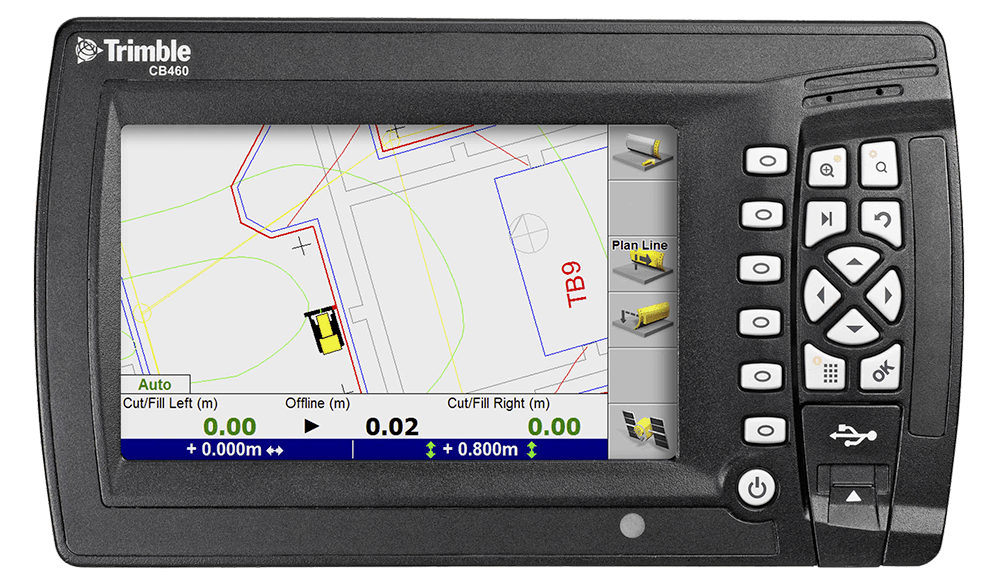 3D models that we produce from Trimble Business Centre HCE are simply loaded into the machines control box which is connected either to the blade hydraulics or audible alarms and onscreen feedback.
GNSS rovers give us a very powerful tool that can be used for multiple set out and measurement functions.